Vegan chocolate brand launches products made with grass-fed dairy
---
The unthinkable has happened: Hu Kitchen, the world's most-successful vegan chocolate brand, is adding dairy milk chocolate products to its range, using a clear 'grass-fed' message. It's the second time this year that a significant vegan brand has launched a dairy-based product in a bid to grow sales and reduce dependence on the struggling vegan niche.
Hu Organic Grass-Fed Milk Chocolate is the first-ever dairy product offered by Hu Kitchen, a successful vegan brand that has sales of over $100 million, despite selling at a premium price. It was acquired last year by Mondelez. The new product comes in five flavours, all using organic-certified ingredients, as well as Fairtrade cacao.
The 'Simple' variant has just 4 ingredients, in line with Hu's very strong brand proposition of few and simple ingredients. Even a more complex flavour, such as Almond Crunch & Coconut, has only 8 ingredients.

One of the interesting keys to consumer psychology about this product is the prominent use of the 'grass-fed' dairy message. Why is it interesting? Because 'grass-fed' is what American consumers search for on Google more than for 'sustainable food', 'B corp' or any other term associated with sustainability (see chart below).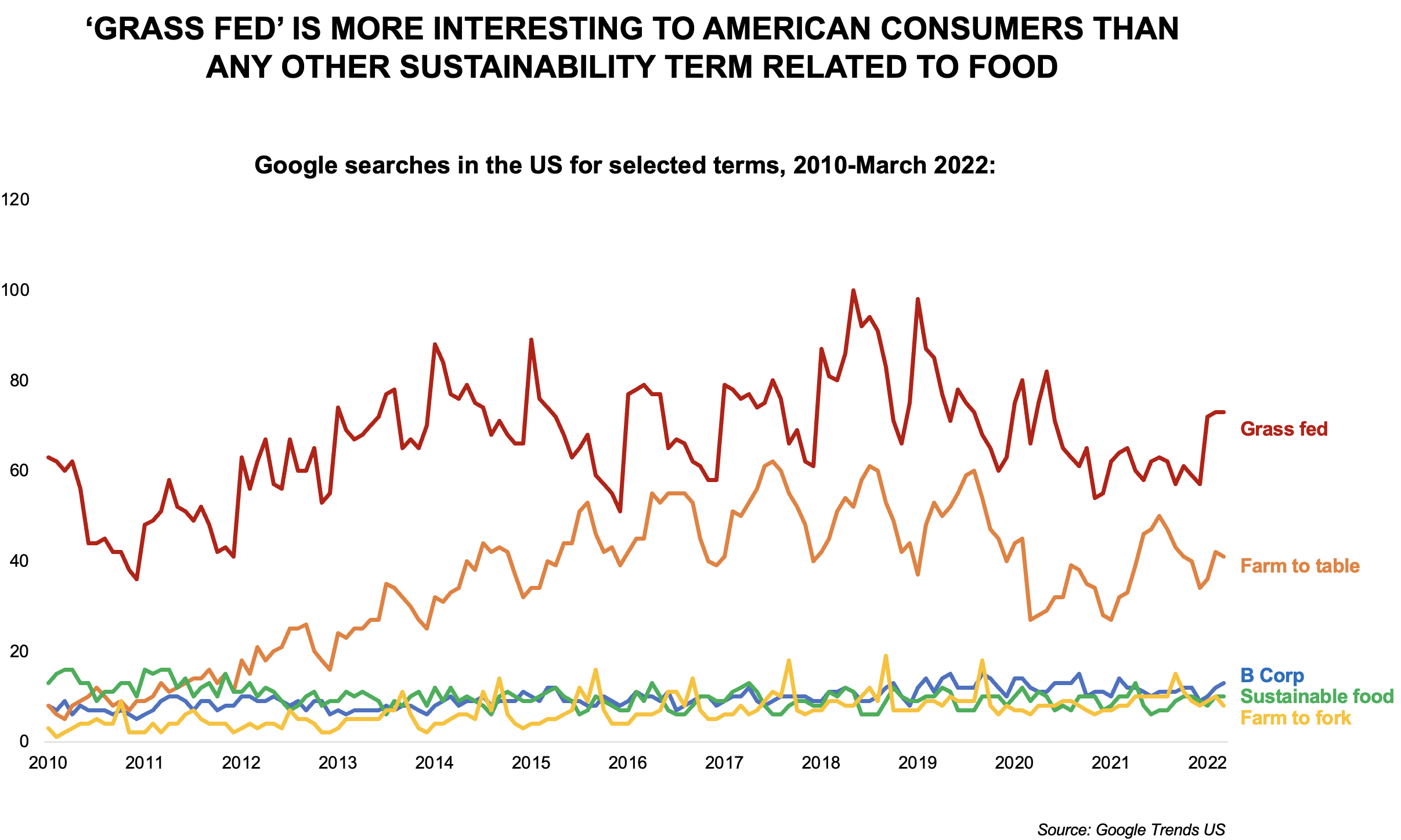 For a small but growing number of American consumers, 'grass-fed' signifies 'better for the cows' (animal welfare), 'better for the environment' and (the most important part), 'better for my health'. All of these opinions are growing in importance to consumers. It makes sense for Hu to embrace grass-fed dairy at a time when the plant-based boom is running out of steam.
The dairy products also conform to Hu's brand promise of:
no cane sugar
no refined sugar
no sugar alcohols
no erythritol
no soy
no gluten
no palm oil
no lecithins
no emulsifiers
Earlier this year the Cosmic Bliss vegan ice-cream brand also added a full dairy line, also using 'grass-fed' as the core proposition. Cosmic Bliss is the brainchild of Jason Karp, who, by coincidence, was one of the co-founders of the Hu Kitchen brand who together made Hu one of the most successful entrepreneurial start-ups of the last decade.
Recent blogs