Presentations
The NNB team are often invited to present at conferences and customer events around the world. Whatever the subject matter, we try to illustrate all of our points with case studies of brands and products that provide lessons from real challenges and opportunities. These are a few examples of presentations we've delivered at public conferences recently.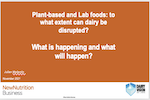 Plant-based and Lab foods: to what extent can dairy be disrupted?
Alternatives made from plants or in a lab are sometimes talked about as "the future of dairy". But how likely is this to actually become reality? Are plant milks and lab-made milks as disruptive, and as big a threat to dairy, as we are often led to believe? The answer is no. Presentation given at Dairy Vision, Sao Paulo, November 2021, by Julian Mellentin.
Download powerpoint
How health and nutrition trends are impacting the bakery category
Consumers want to indulge in bakery products without abandoning their commitments to a healthier lifestyle. Reducing carbs has joined sugar reduction as a way to achieve this balance. But consumer health beliefs are fragmented and diverse the world round – resulting in more opportunities for niche brands. In this presentation we introduce the leading trends driving change in the bakery sector. Presentation given at Food Ingredients Europe, Paris, December 2019, by Julian Mellentin.
Download pdf
Plant-based: how to connect profitably to the blossoming opportunities
There has been a lot of hype around the potential of plant-based foods. But what does this really mean for ingredient and branded companies, and what are the products that connect with consumers? This presentation given at FiE 2019 identifies the opportunities in the plant-based trend that can give businesses good, long-term growth. Presentation given at Food Ingredients Europe, Paris, December 2019, by Julian Mellentin.
Download pdf