Dairy disrupter launches New Zealand's first collagen milk
---
Viewed by many as "protein with benefits", collagen may be the next phase in the development of the protein trend. Companies all over the world, including giants such as Nestlé and Danone, are trying to get a slice of the collagen pie. Lewis Road Creamery – New Zealand's newest dairy company, and one that's proving to be a disruptive presence in the market – is no exception.
In August 2020, the family-owned boutique dairy company launched Jersey milk that has been fortified with bovine collagen before pasteurisation, meaning that each 250ml serving contains 5g of collagen. The collagen, sourced from leading New Zealand collagen brand Jeuneora, is said to be a type targeting joints and mobility.
The milk is said to provide "your daily regular collagen fix as part of your daily routine" and is promoted as having the same taste and texture as regular milk. "We're supercharging fresh milk so you can get a dose of high-quality collagen without even having to think about it", Lewis Road Creamery's general manager Nicola O'Rourke told Dairy Reporter.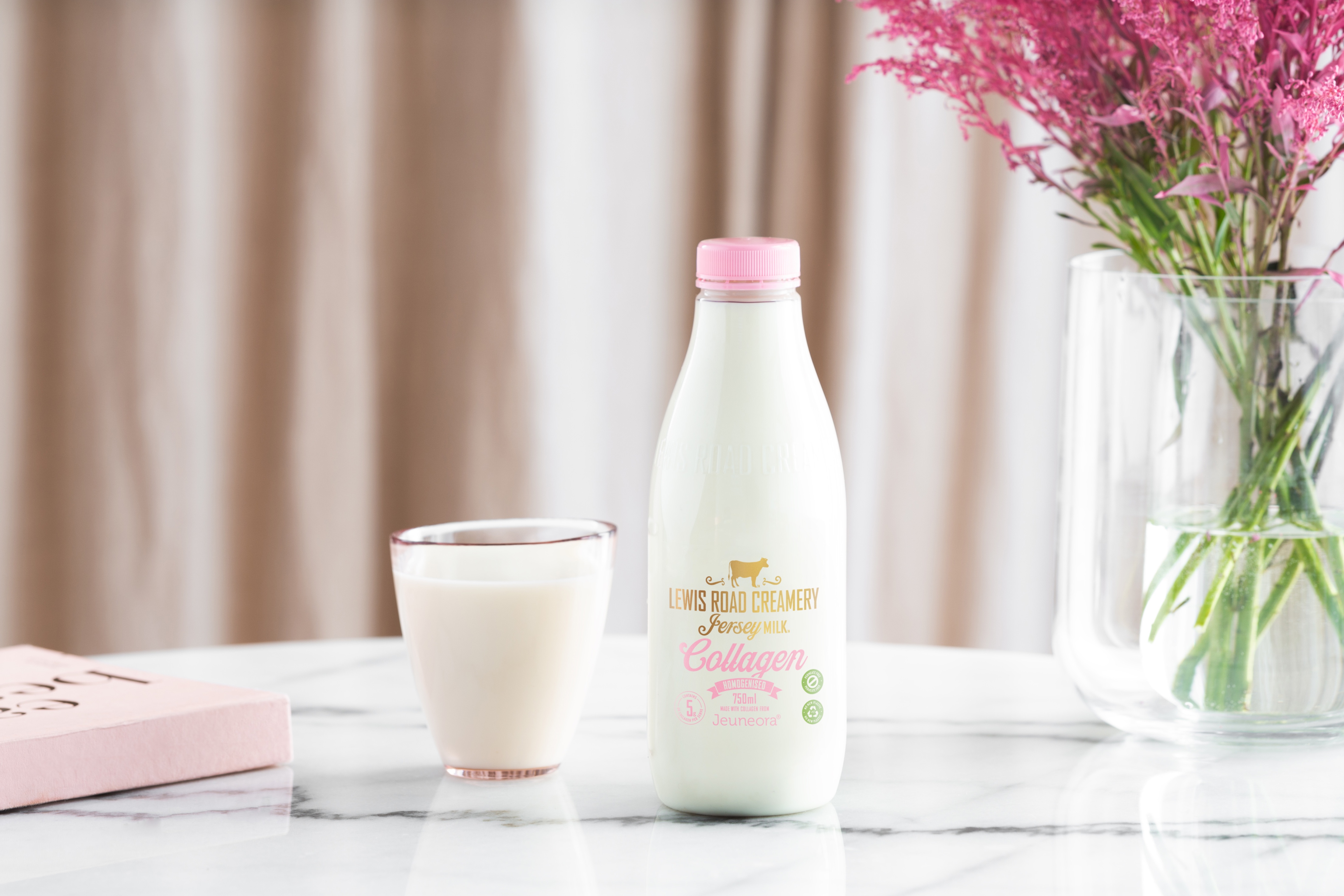 In a category where there isn't normally a lot of brand loyalty, Lewis Road Creamery has managed to build itself a steady base of consumers who are prepared to pay the price premium for the company's locally-made milk, yoghurt and butter, much of it organic. The brand is still small but its share of the New Zealand drinking milk market has grown from 0.7% to 1.2% over the past five years.
The new collagen milk costs NZ$4.99 ($3.35/€2.82) for 750ml – more expensive than the brand's plain organic milk (NZ$3.99/$2.68/€2.26 per 750ml) and a significant premium over competitor Anchor's plain milk (NZ$2.80/$1.88/€1.58 per litre).
In the US dietary supplements market, the collagen products sub-category enjoyed the greatest absolute growth last year. Touted for its potential benefits for anything from skin to joint health, the popularity of collagen shows that consumers are open to animal-based innovation as much as plant-based.
Recent blogs