US biltong pioneer taps into the meat snack opportunity
---
Nearly five years ago the World Health Organisation (WHO) announced that processed meat, such as frankfurters, bacon and sausages were now definitively deemed cancerous. The media lapped up the story, zealously churning out headlines along the lines of "eating bacon is tantamount to smoking". But hindsight – and meat sales figures – suggests that consumers paid no heed.
Meat and meat snacks remained unimpacted by the WHO's announcement, with sales growing. In fact, meat snacks reached $3.29 billion (€3 billion) sales in the US last year, with a growth rate of 12%, making it an appealing category for companies to dip their toe into. These sales figures should be sobering to those who subscribe to the theory that vegetarian or vegan diets are going mainstream.
People are looking for more ways to incorporate plants into their diet – but they want their plants alongside meat. And what they want more than anything else is convenience. Meat snacks deliver on both.
Responding to consumers' need for convenient animal protein while also indulging their desire for novelty, Kalahari Snacks, who pioneered biltong in the US, has rolled out biltong crisps.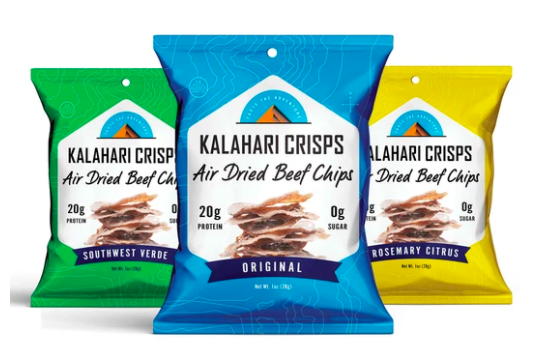 Often likened to jerky, biltong is a dried, cured meat hailing from southern Africa that can be made with anything from beef to game meats such as ostrich or kudu (antelope). For its Kalahari Crisps, the company uses spiced top round beef, sliced and roasted, and delivers the biltong in three flavours: original, southwest verde, and rosemary citrus. Kalahari Crisps are sold on eatbiltong.org, and will be available on Amazon and Sprouts for a suggested price of $4.99 (€4.18).
Kalahari Crisps respond to several major consumer needs:
More protein, delivering 20g per pack
Lower carbs and sugars – with 0g of carbs and 0g of sugar
Transparency – relatively few and simple ingredients including beef, salt vinegar, dried beef stock, sunflower oil, extracts of black pepper, red pepper and coriander
These roasted beef chips feature a texture equivalent to a crunchy chip, and are keto, paleo and Whole30-friendly.

"We are extremely passionate about what we do and the products we bring to the table with the purpose of creating snacks that meet the needs of our consumers," said Brett Johnston, co-founder of Kalahari Snacks. "Going back to my South African roots, we wanted to make sure the newest Kalahari product was just as simple and delicious as our last."
While it's too early to gauge the success of Kalahari Crisps, the cards are stacked in the brand's favour, as they connect to several strong long-term trends, most notably protein and zero sugar.
Recent blogs