Can barley be the next oat milk? Grains' bid for a place in plant milk business
---
After a decade when the market for plant-based milk alternatives has been led by almond and other nut milks, grain-based drinks are trying to get a slice of the action. Oat milk was first with sales growing fast in 2019. Now barley has emerged as another would-be challenger.
California-based Take Two Foods entered the US market in March 2020 with what it claims is "the world's first barley milk". The brand's four SKUs are available in grocery stores and coffee shops across Los Angeles and the Pacific Northwest. The range includes:
Original barley milk
Chef's Blend (barley milk with a higher fat content, making it suitable creamy recipes or for foaming)
Chocolate-flavoured barley milk
Vanilla-flavoured barley milk
The products feature barley milk (water, barley and rice protein) as the key ingredient, but also contain other plant-based ingredients such as coconut cream and pea protein. They retail at a premium price of $4.15 per litre and are promoted as high in protein, fibre and calcium, and low in sugar.
In the UK, the Bright Barley brand was not far behind. Hitting the shelves in April 2020, this start-up "is on a mission to bring barley back" with a range of flavoured shakes based on barley milk.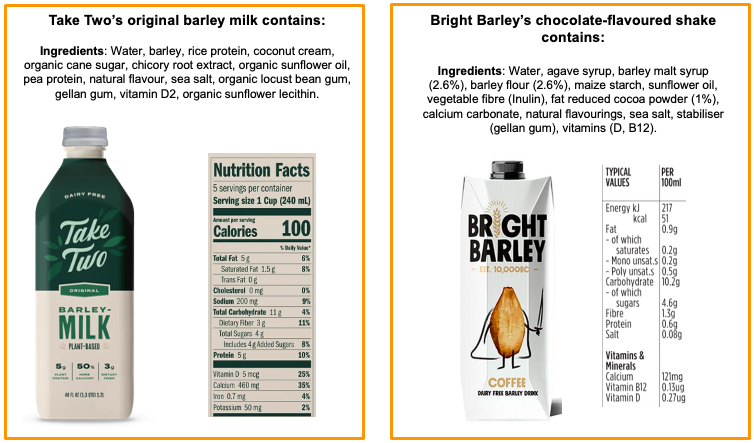 Both brands emphasise sustainability:
Take Two claims to "champion the planet's resources" and uses 'rejuvenated barley' – a by-product from beer production – to make its products.
Bright Barley promotes its products for being "packed with sustainability credentials".
For any new plant-based milk brand to succeed in a market which is already very well-supplied with options, two factors are critical: taste and versatility. Oat milk, for example, scores highly on both.
The founders of Take Two seem to understand this, promoting themselves with the tagline "Best in plant based taste" and statements such as "We crafted the first ever barley milk to satisfy your craving for a plant-based milk that tastes, nourishes, and performs like traditional dairy milk."
Barley milk may be able to carve itself a new niche in a fragmented market. Or it may simply join the many plant-based milk alternatives whose sales are dwarfed by almond, which has a 70% market share, and are already cannibalising each other.
Recent blogs