New plant-based 'mince' aims to accelerate legume cultivation
---
Mince made from oats. Burgers made from peas. Chicken made from fungi. Sausages made from soy. Lab-grown meat produced using 3D printers.
Just when we thought we had seen it all, there is a new plant-based meat alternative on the block. This time the innovation comes from Axfoundation, a Swedish non-profit organisation that defines itself as a "do tank" (as opposed to a "think tank") whose purpose is "to innovate and accelerate solutions for a sustainable world". Food is one of Axfoundation's four key focus areas and the organisation is founded by a part-owner of Axfood, a major player in the Swedish food retail market.
Axfoundation's new mince is simply referred to as 'baljväxtfärs', Swedish for 'legume mince'. It is based on lupine, broad beans and field peas, all sourced from Sweden.
The "sourced from Sweden" part is important; the key aim of the product is to motivate Swedish farmers to produce more legumes. Madeleine Linins Mörner, head of Axfoundation's Future Food programme, says: "We are driven by a desire to increase the Swedish production of legumes. We need to reduce our meat consumption for health and climate reasons, and protein-rich crops is a good alternative. Legumes also bind nitrogen in the soil which reduces the need for fertilisers, so that's another plus for the environment. With this project we wanted to explore what we can grow in Sweden to contribute to a protein shift".
With only six ingredients – lupine, broad beans, field peas, rapeseed paste, rapeseed oil and salt – the mince contains none of the usual imported pea or soy protein isolate. This was a deliberate choice when developing the product; Axfoundation wanted to use ingredients that are as environmentally sustainable as possible. "There is a wide range of meat and dairy substitutes on the Swedish market, which of course is good. However, many of these products are made from soy. Soy is good from a nutrition standpoint, but it's primarily grown in places far from Sweden and it's often produced in a way that harms both people and nature," says Axfoundation.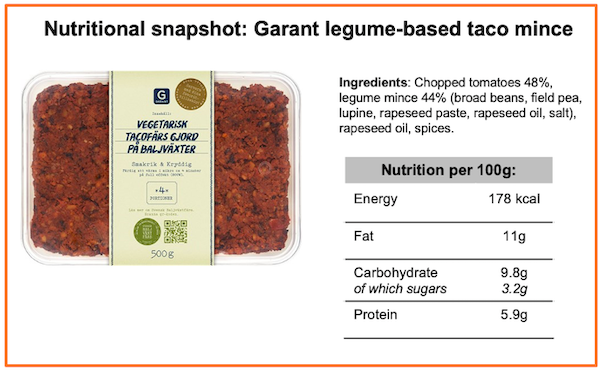 The finished product has been tested in food service and retail since 2018. In May 2020, it was announced that it has been incorporated into three ready meals just launched under Axfood's private label brand Garant. The portfolio includes lasagne, Bolognese and spiced mince intended for tacos – a dish so popular in Sweden that it is sometimes jokingly referred to as the country's national dish. An estimated 85% of Swedes make tacos at home on a regular basis – it remains to be seen how many of those 85% are prepared to change up their tacos by replacing the meat with legumes.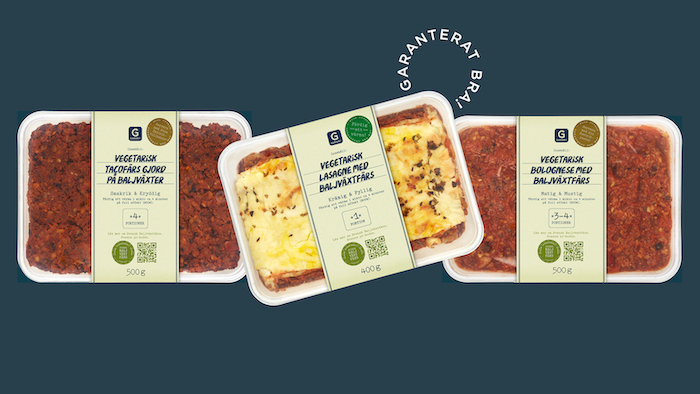 Recent blogs