Ten key trends on a plate
---
Spotting and predicting the key trends that are driving consumers' eating and spending habits – as we do every year – is a feat of analysis that leaves us exhausted.
So it's heartening when we see the trends and mega-trends we've flagged up in 10 Key Trends reflected in real life – on the plates of diners around the world, as reported by those at the coal-face.
Hotel chain Kimpton asked more than 130 of its staff – including chefs, bartenders, general managers and sommeliers – from more than 75 of the restaurants and bars in its empire (which includes the US, Caribbean, Europe and China) for their observations, and predictions, about what's hot.
Get beyond the more exotic predictions – water lily seeds, oat-milk honey lattes or s'chug – and the findings read like a roll-call of our 10 Key Trends, starting with the mega-trend, Fragmentation. Chefs report increasingly having to cater for once-alternative diets, such as keto and vegan, that are now becoming normal. According to 31% of chefs surveyed by Kimpton, it's no longer enough to have just one or two of these on the menu.
Good carbs, bad carbs: Chefs predict more gluten-free options in traditionally carb-centric dishes like pasta and breads, using ingredients such as almond flour. "From gluten-free cauliflower schnitzel to gluten-free calamari, chefs will continue to give more and more menu items a wheat-free makeover," says Kimpton in a press release.
Digestive wellness: Fermented foods with gut-healthy probiotics are continuing to grow in popularity with tempeh, pickled vegetables, infused vinegars and fermented dairy products popping up on more menus across the globe.
Fat reborn: Schmaltz – rendered chicken or goose fat – will be trending in 2020, according to a quarter of chefs surveyed. "Keep an eye out for…schmaltz as the new olive oil for dipping baked bread."
Provenance: "Expect to see regional and indigenous-inspired cuisine, including more Native American, Scandinavian, Peruvian and Russian influences," says Kimpton. "Local, responsibly-sourced ingredients that bridge traditional culinary lines…will continue to grow in 2020." And local collaborations such as partnerships with local artists, distillers, farmers and community members "will be king".
Sustainability: This will continue to take centre-stage, predicts Kimpton: "Restaurant and bar managers, chefs and bartenders are crazy about composting, incorporating zero-waste techniques and eliminating single-use plastic items."
Energy 2.0: Coffee spritzes are picked to be the hot (cold) drink of 2020; other top coffee trends will include nitro coffee on tap, cold brew alternatives and CBD coffee.
Plant-based: Chefs say they will be sneaking more vegetables into pasta, pizza, breads and sauces and creating fully vegetable burgers, jerky and chips, made from ingredients like mushrooms, eggplant, and sweet potato. Just over half of respondents predict plant-based meat alternatives will move from cult-following to mainstream in 2020.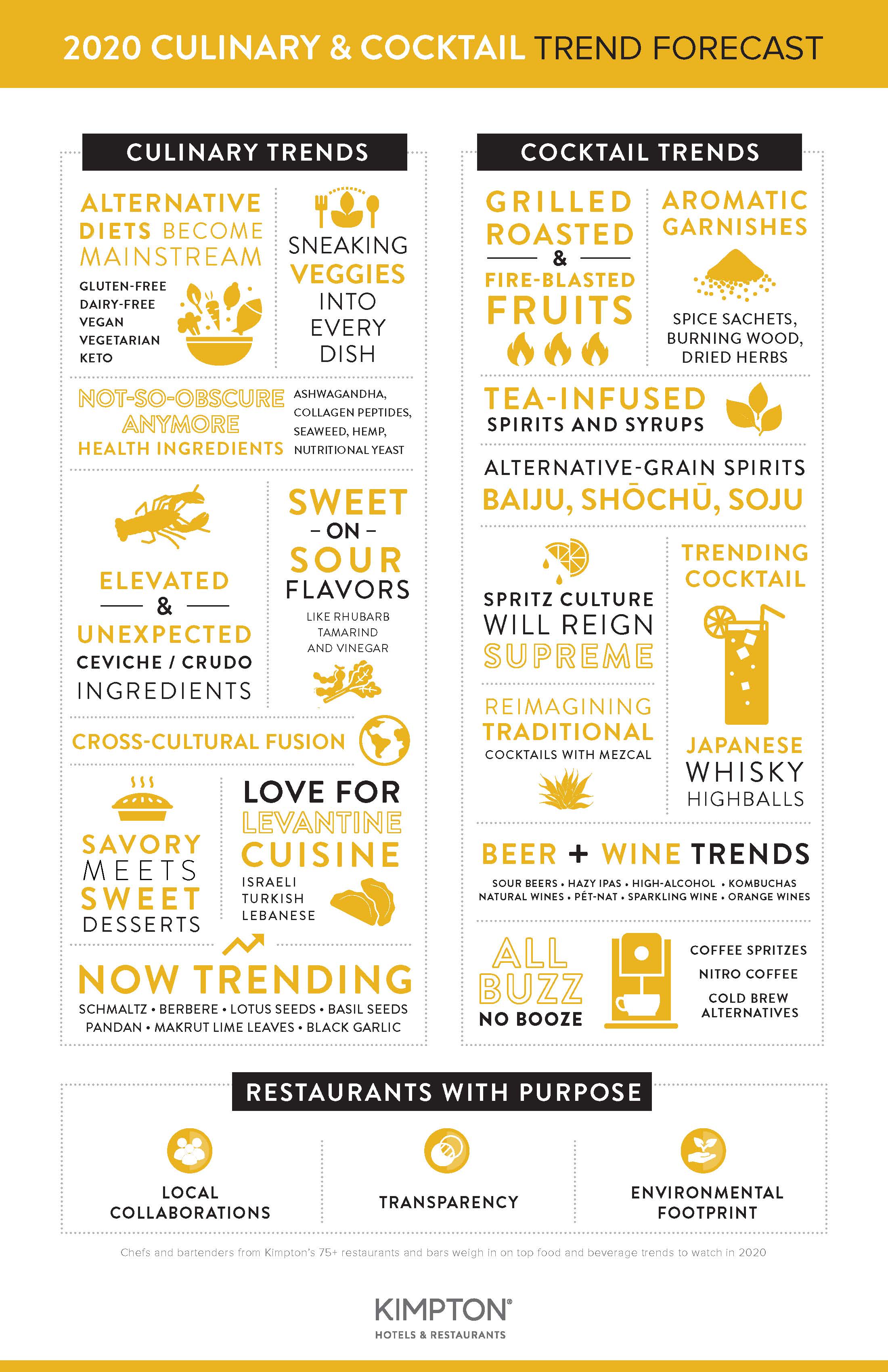 Source: Kimpton Hotels & Restaurants 6th annual Culinary & Cocktails Trend Forecast.
Recent blogs