Nordic bid to create "a whole new protein source" to rival tofu
---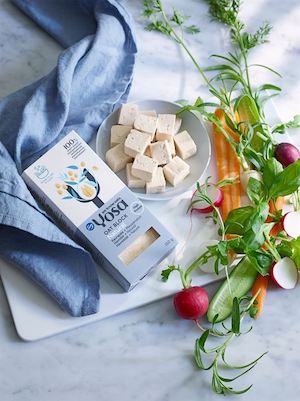 Marketed as an alternative to tofu or cheese and described as "kind to the environment and versatile", Yosa Oat Block aims to connect to Nordic consumers' interest in protein, plants and planet.
Created by Fazer – one of Finland's biggest food companies – the oat block debuted in Finland at the beginning of the year, and after seeing success there it is now being launched in Sweden.
The product is positioned under Fazer's Yosa brand, which is associated with oat-based dairy alternatives, such as oat yoghurts. Yosa is part of Fazer's Lifestyle Foods division, which focuses on food products that appeal to health-conscious consumers looking for sustainable, versatile products. The Lifestyle Foods division is one of Fazer's most profitable divisions.
With a protein content of 15g per 100g, the oat block is promoted as "a whole new protein source". The product is 100% plant-based – however it's not just made with oats, which are not high in protein. Pea protein is added to boost the protein level.
Oat block is sold in plain and flavoured (basil and oregano) varieties. It retails at SEK 29.90 (€2.79/$3.06) per 160g pack, making it slightly more expensive than tofu.
Provenance has always been a cornerstone of Yosa's marketing strategy, with the slogan "Yosa – the delicious power of Nordic oats". The oat block is promoted as made from Nordic oats which are said to be uniquely "strong, natural and pure".
Yosa communicates that oat block as both an environmentally friendly option and a versatile one, which can be eaten raw, fried, grilled or as part of sauces.
If consumer reaction on social media is any measure, the product is off to a flying start.
Recent blogs