Is Oatly en route to becoming one of the biggest failures in food industry history?
---
Oatly is fast becoming a train wreck. The brand that has become known for its quirky and aggressive marketing style and its direct attacks on dairy is losing money everywhere. All that clever marketing has yielded nothing but to take a small profitable business and transform it into a large business that makes huge and growing losses.
It's the easiest thing in the world to do - drive up sales while ignoring spiralling losses. It's a strategy which has produced the following:
Every $1 of product Oatly sells costs it $1.52 to make (in 2021 it was $1.28 of cost for every $1 sold)
Sales in the first nine months of 2022 were up by 15.3%.
But its operating losses were up by 223% compared to the same period in 2021!
It generated an operating loss of $270.954 million in just the first six months of 2022 (see Chart). That's more (30% more) than the company's losses in the whole of 2021.
If Oatly keeps going at this rate it will make a loss of more than a third of a billion dollars in 2022!
Oatly's gross margin slumped to just 9%, compared to 27% in 2021.
The company burned up $215 million of cash in 2022 and it has just $110 million of cash left on the balance sheet. Six months from now this company is likely to be at crisis point.
Europe (EMEA) is Oatly's main market, accounting for around 54% of sales so far in 2022. Europe was Oatly's only profitable market, but in 2022 it is now making a loss in Europe.
Oatly's dependence on Germany and the UK - where sagging economies are the reality for the next 12-18 months - is its Achilles heel.
The US market - which accounts for 30% of Oatly's sales and where it loses more money than in any other market - will also become a bigger problem. In the grocery channel Oatly is already significantly outsold by Planet Oat (made by dairy group HP Hood) with many other brands and supermarket private labels also working hard to get share.
Oatly's CEO has found plenty of things to blame for his company's performance but few will be convinced. It's clear that Oatly was banking on an unrealistic business model that has buckled under the impact of the reality of the supermarket.
The company says it is slashing costs. It looks like it's too late for that and the best way out for the shareholders will be a fire sale to a Nestlé, Unilever or one of their peers. For Oatly, the end of the line approaches fast.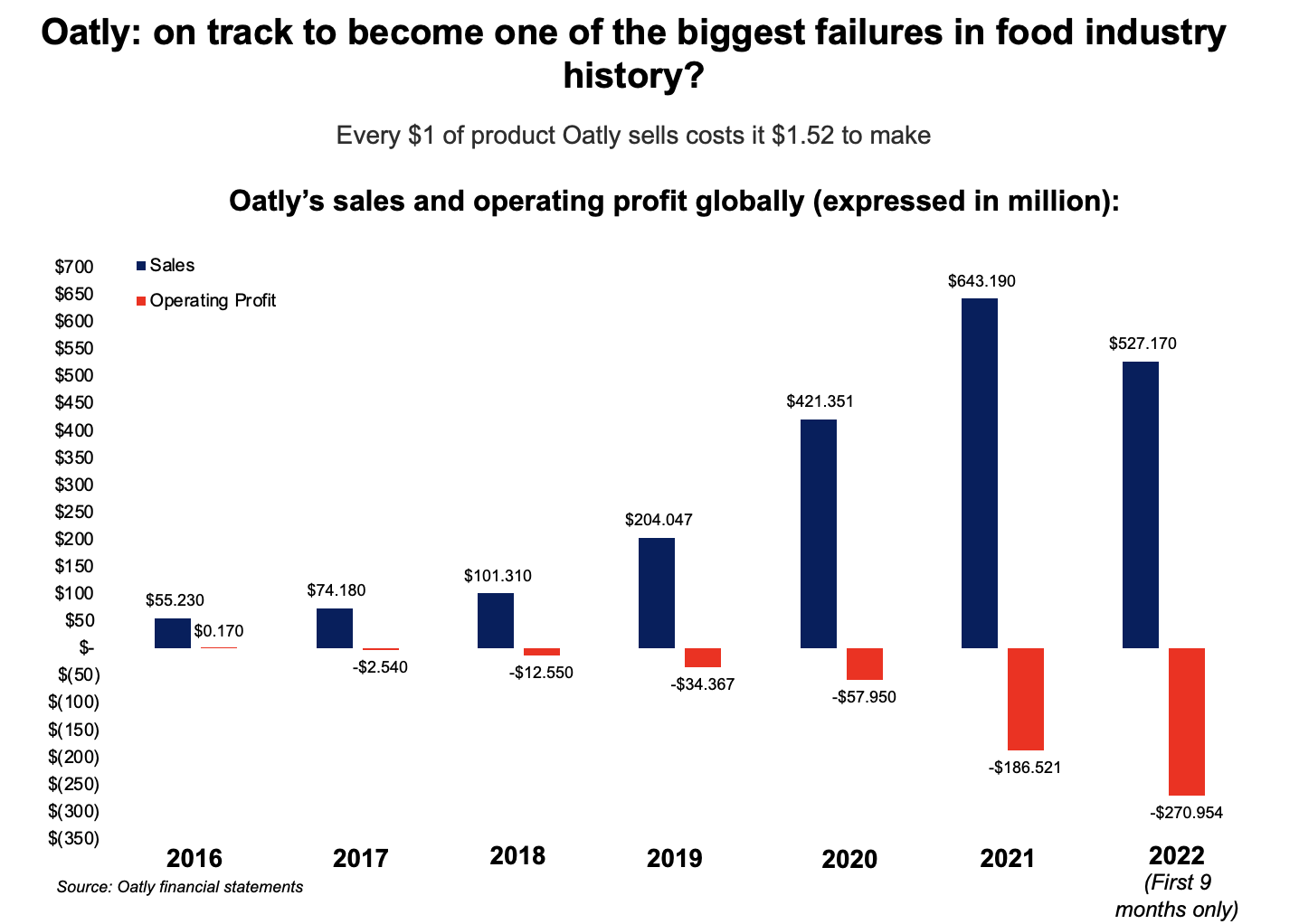 Recent blogs