Finding the positive in plant-based meat's Gen 1 failures
---
Every $1 of product it sells costs it $1.82 to make: Beyond Meat, the plant-based meat substitute maker whose CEO once boasted of his intention to make consumers switch away from consuming meat, has reported yet another set of calamitous financial results.
Beyond was backed by $1 billion from investors who may never get their money back - the company has reported the value of sales down by 22.5% in the 3 months to October 2022. Volume sold was also down, by 12.8%.
Looking at the first 9 months of the company's current (2022) financial year it's clear that the picture has no positives:
Beyond Meat's operating losses were up by 180% in the first 9 months of 2022, compared to 2021
Total losses in the period of $277 million (see Chart 1) exceeded losses for the whole of 2021.
Every dollar of product Beyond sells costs it $1.82 to make.
Even more amazingly, the company continues to produce a negative gross margin of -18%. Yes, you read that right: minus 18%.
In the third quarter of 2022, the company's retail sales in the US market were down 11.8% compared to the year before. It's not just the US where Beyond is struggling. The company's international sales fell by 47.8%.
Beyond is not alone - IRI supermarket sales data shows sales in the total plant-based substitute category down by 15% compared to last year.
It's clear where all this is heading. The company has $390 million of cash. However, it burned through $270 million in 2022 (almost double the cash outflow of 2021).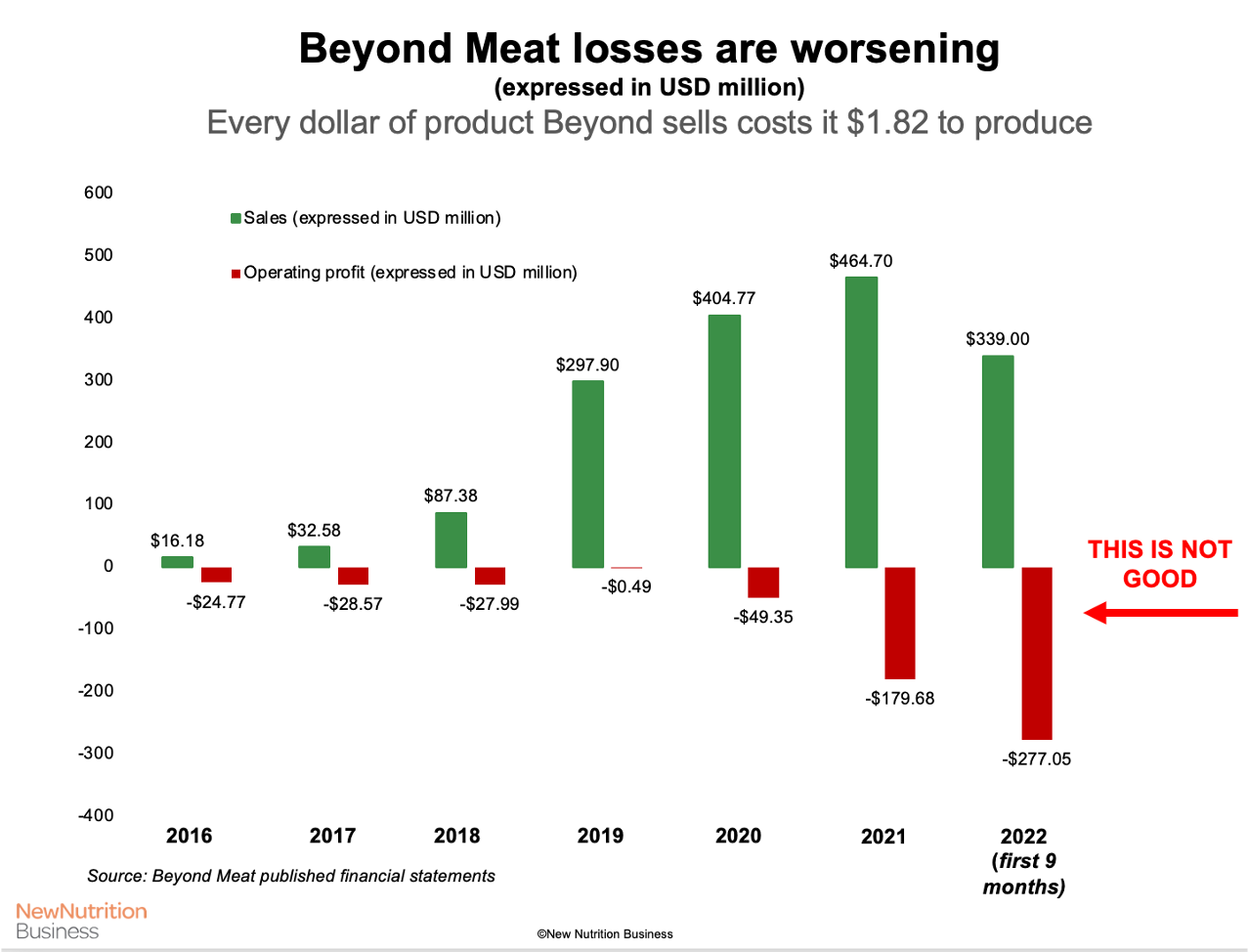 The disappointment experienced by Beyond (and many others) is a result of the echo chamber of lazy thinking which created a myth that there was going to be "a plant-based meat revolution". We have been warning customers since 2017 that they needed to have 'big niche at best' expectations for the meat substitute category. Given that we look at all the information that's available and not just part of it, that was an easy forecast to make.
And what's the positive we can take away from the Beyond story? It's that, if plant-based meat substitutes are to have a future, a Generation 2 strategy is needed. We spell out what such a strategy for success should look like in 10 Key Trends 2023: https://www.new-nutrition.com/nnbReport/display/261
Another positive we can take away from Beyond Meat is a reminder of the most common causes of failure in healthy foods and the importance of understanding them so that you can avoid failures and create success. And that's why, to help you, we have published a new version of our Failures report, which you can find here: https://www.new-nutrition.com/nnbReport/display/253
Recent blogs