Air nuts and cheeseburger jerky - observations from London
---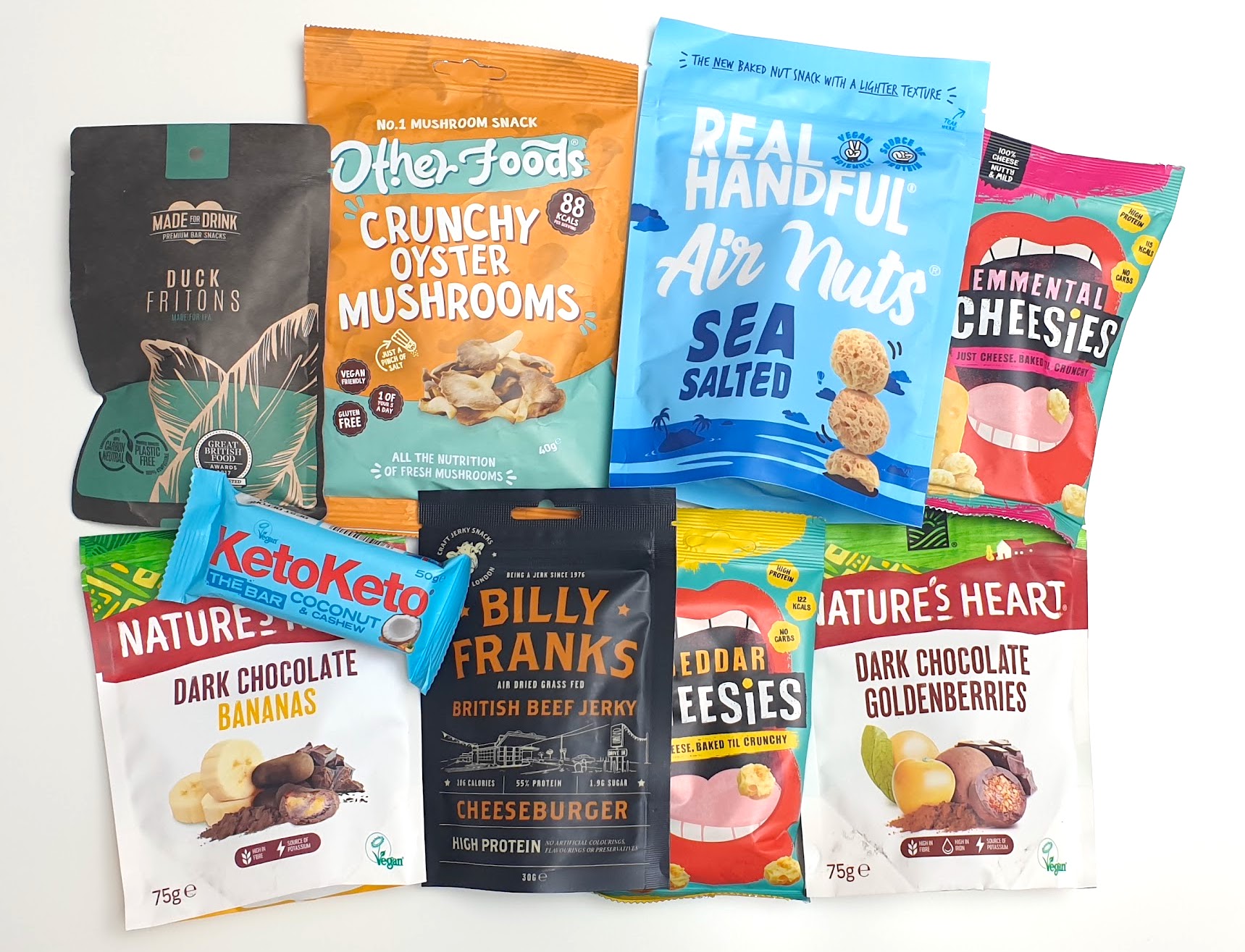 During a recent visit to London we took the opportunity to visit some high-end grocers you won't find anywhere else in the UK. Here's a snapshot of some of the interesting products we found, and why they caught our attention:
Duck Fritons: Taking meat snacking to the next level, Made for Drink has launched a duck version of the famous pork scratchings ('rinds' in the U.S.). Consisting of crispy morsels of duck skin, the product is the brand's most popular SKU and is promoted as "pork scratchings, but a touch more luxurious". With 18.8g of fat and 8.6g of protein per 33g they're delicious and get great online reviews. The brand is also carbon neutral.
Air Nuts: Launched in February 2022, this is an example of an innovative processing technique rather than ingredients or nutrition. Real Handful, the company behind the product, uses a mixture of peanuts (83%) and rice flour that is put through an aeration process to create a nut snack that is 60% lighter than regular nuts. The brand describes it as "an evolution in nut snacking" and encourages consumers to "put down the crisps and say hello to better snacking".
Cheeseburger jerky: Fancy a cheeseburger without all the calories? Promising to deliver "all of the pleasure without the guilt", London-based jerky brand Billy Franks launched cheeseburger-flavoured beef jerky in 2013 and it remains one of the brand's best-selling products. The all-natural ingredient list even features gherkins, ketchup and mustard – and we can confirm that you can taste it all! The fact that the jerky is made from 100% grass-fed British beef doesn't hurt either, and helps set the brand apart in a market where the "grass-fed" claim is still relatively uncommon.
Cheesies: Cheese snacking is one of the most reliable growth opportunities. Cheesies offers baked cheese snacks made from Emmental, goat's cheese, Cheddar and Gouda, Cheesies is promoted for being high in protein and low in carbs. The snacks are tasty, but we can't help missing the creaminess that fresh cheese offers.
KetoKeto: The keto snacking space is full of interesting brands, but it was KetoKeto's tagline "Fill up on fat, on purpose" that caught our attention. It cleverly highlights the high-fat proposition of the keto diet and encourages consumers to shed their fear of fat. The snack bars are made with almonds as the first ingredient and consist of more than 50% fat, with one 50g bar delivering 27g of fat.
Crunchy Oyster Mushrooms: Mushrooms are evolving the latest wonder ingredient, thanks to their naturally healthy halo. Other Foods is a brand that is capitalising on this. It promotes its mushroom chips on a 'naturally indulgent' platform and uses the tagline "All the nutrition of fresh mushrooms". The same brand also offers okra chips, which we were not brave enough to try…
Nature's Heart: Inspired by the superfoods of South America, London-based Nature's Heart offers a range of fruit and nut snacks sold in bags and bars. The goldenberries caught our attention as an unusual ingredient that most British consumers won't have heard of. Meanwhile, the bananas in dark chocolate are very similar to those of US-based Barnana and just as delicious.
Recent blogs