Upcycled cranberry-and-kelp cubes combine emerging trends
---
Ocean Spray, the cranberry cooperative based in North Carolina but well-known around the world, has joined forces with women-run regenerative aquaculture company Atlantic Sea Farms to launch nutrient-dense cubes of cranberry and sea kelp.
The cubes, which are promoted as a way to "boost your superfood smoothies", contain only three ingredients: kelp puree, cranberry puree and cranberry seeds. Atlantic Sea Farms describes cranberry seeds as, "An exciting new upcycled ingredient that packs a nutritional punch." They will be available in Sprouts across the US and retail at $7.49 (€7.12) per pack of 8 cubes, which provides 4 servings. Each serving has just 20 calories.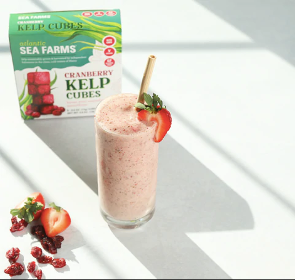 Cranberry has well-established health credentials and was one of the first plants to be described as a 'superfood', back in the 1990s. Sea kelp is less known to the average consumer, but Atlantic Sea Farms hopes that the collaboration with a mainstream consumer brand like Ocean Spray will help increase consumer awareness of sea kelp and its benefits for both human and environmental health.
For Ocean Spray, the partnership helps boost the company's sustainability profile – both social and environmental: "Through this ingredients collaboration with Atlantic Sea Farms, Ocean Spray is able to align itself with a company that is living at the forefront of sustainability and innovation, prioritizing family-farmed products and innovation all while expanding opportunities for Maine's fishing communities," Katy Galle, Senior Vice President of Research, Development & Sustainability at Ocean Spray, said in a press statement.
The launch responds to consumers' emerging interest in nutrient-dense foods that are also environmentally friendly. Atlantic Farms and Ocean Spray have both adopted regenerative agriculture and Ocean Spray's cranberries are independently verified as sustainably grown.

Recent blogs