BabyBel rolls out a new cheese snack
---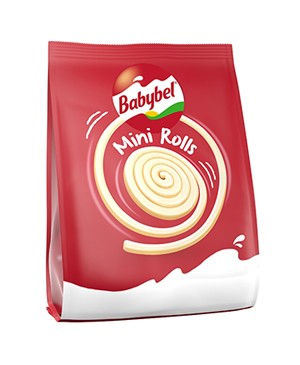 The reinvention of cheese snacking has been spearheaded by the likes of Sargento's Balanced Breaks, combining pre-cut cheese and nuts, and Kraft's Oscar Mayer P3 meat, cheese and nuts snack pack - two brands which between them earn over $200 million in sales.
Now the iconic cheese-snack brand Babybel is investing in a whole new take on portable cheese with the launch of Mini Rolls - "a good source of protein that's fun and filling for the whole family".
Babybel Mini Rolls come in a playful spiral shape meant for both kids and parents. Made with natural cheese, they have no artificial preservatives, flavours, or colours and are vegetarian-friendly. The version sold in the UK – where they're called Spirolls - is also described as "naturally lactose-free". Each 17g roll delivers 5g of protein, 7% of the RDI of calcium and 3g of fat.
The rolls are available in five-count packs in the dairy aisle at all major US retailers for a suggested price of $3.89 (€3.47), as well as in UK retailers.
"Packed in a portable pouch and offering a good source of protein, kids will have fun pulling, peeling and twisting their Babybel Mini Rolls, and parents can feel good about serving a healthy and filling snack that's tasty and convenient for all occasions," says Babybel innovation manager Iris Terolli-Hall.
Fromageries Bel, the French group which owns the Babybel brand, is a rarity in dairy – a company that has focused its strategy solely on building "super iconic brands for healthy snacking". Bel points the way towards one the biggest business opportunities for dairy companies now.
The cheese snack opportunity is built on the following factors:
Consumer familiarity. Cheese is already established in many people's snacking repertoire and has a positive health image, made even more positive by the rehabilitation of saturated fat in general and dairy fat in particular.
A natural source of protein.
Permission to indulge. Cheese is about taste and pleasure – two of the main things that people look for in a snack.
Low in sugar. The demonisation of sugar is causing an increase in consumer interest in savoury snacking as a way to reduce their sugar intake.
Meat-reduction. People looking to skip meat a few times a week are seeking other sources of good-tasting protein.
Recent blogs