An innocent social media strategy done right
---
How to attract attention and engagement on social media? This is the million-dollar question for brand owners all over the world. And if you get the answer right, you may well find that you are rewarded with a lot more than a million dollars.
An example of someone who has managed to do just that is UK smoothie brand Innocent. The brand has made a name for itself as social media king in its own right and is frequently hailed for its quirky, satirical and effective social media communications.
What Innocent has done is something so simple yet complicated: it has managed to find the right balance of humorous, engaging posts and product promotion. These types of content can be divided into two categories: brand building content and sales activation content. Striking the right balance is key; you want to entertain people but also sell your product in an unoffensive way, and this is something that companies often struggle with.
Innocent has done this so well that just one look at their Twitter account summarises everything that they are doing right. The brand's Twitter intro reads: "We make healthy drinks. Please buy one so we don't get fired."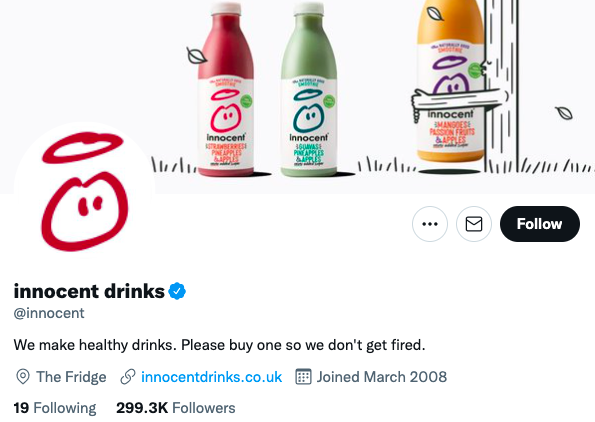 By aligning social media strategy with the overall colourful and playful brand image, Innocent shows a unified and integrated front and attracts consumers with unique content that often goes viral. And perhaps most important of all: The brand ensures that content is topical and transparent, while being very active in responding to consumer feedback – good and bad.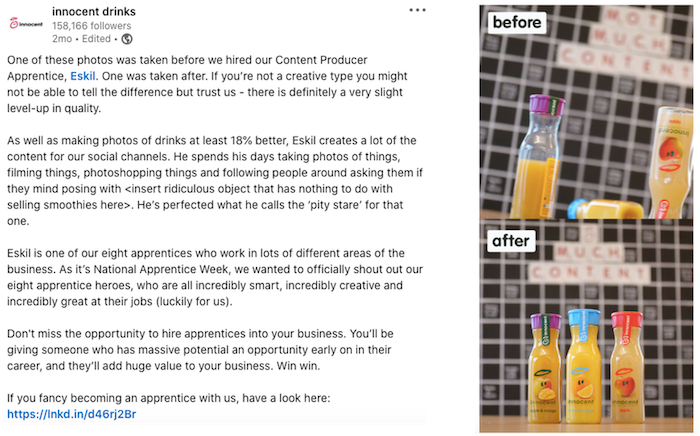 Innocent's efforts have been rewarded with a LinkedIn follower growth of over 30% in the past year and an Instagram growth by around 10%. Meanwhile, Innocent was in the top 30 of Britain's fastest growing brands in 2021, with a sales growth of 9% to reach £277.9m (UK only). This means that the brand added an impressive £22.9m in sales compared to 2020, and its strong social media presence is no doubt to thank for at least parts of that.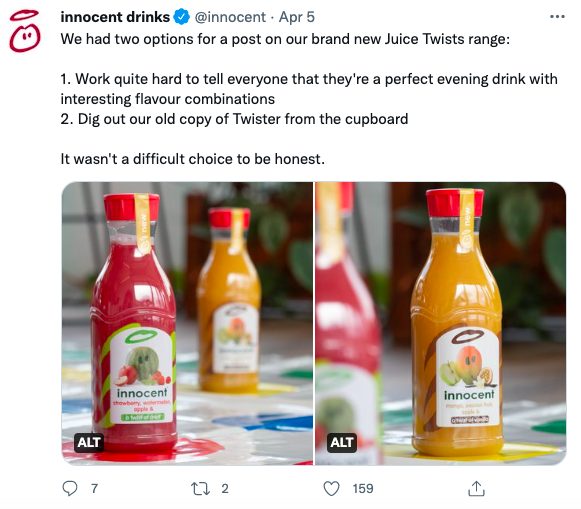 Recent blogs