British consumers show dual appetite for health and indulgence in snacking
---
Fruit or chocolate? If you ask British consumers, both go when it comes to snacking.
The two foods came out top when The Grocer asked UK consumers what snacks they had consumed during the past week. 64% claimed to have eaten fruit, but 64% also said they had eaten chocolate. One is actively recommended by public health authorities; the other is shunned for being too calorific and full of sugar. The image this paints is today's food and beverage market in a nutshell: a never-ending cycle of consumers striving to achieve a balanced lifestyle where health and indulgence can coexist.
Some may be surprised at chocolate's popularity, considering how health-aware today's consumers allegedly are. This is perhaps best explained by the fact that The Grocer's survey also found that 'taste' comes out top of the list when consumers are asked what is most important to them when choosing a snack, with 56% of respondents saying that this is a key priority. 'Health', on the other hand, is only a priority for 17% of respondents. This is true even among the most fitness-concerned consumers: 53% of respondents in this demographic said that taste is the most important factor when choosing a snack, while only 20% would prioritise healthiness first.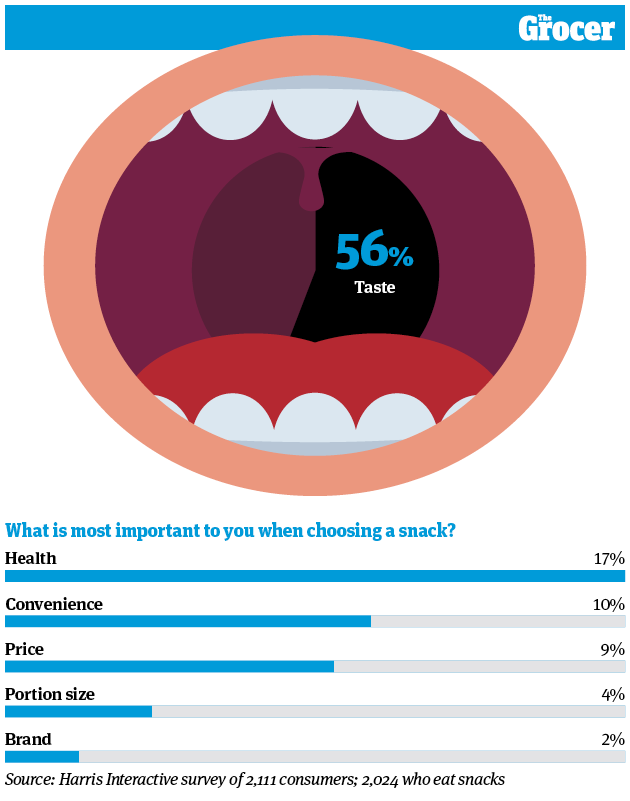 We often use the expression "taste is king" here at NNB, and there is a reason for that. If your product is unable to deliver on taste, it simply will not survive in the long run. This is all the more true in the case of snacks, which are often seen by consumers as an opportunity to treat themselves while loading up on extra energy.
But for those who want to load up on a snack that is both healthy and tasty, there appears to be a perceived shortage in product options in the UK market. Only 21% if the consumers surveyed by The Grocer agree with the statement that "most healthy snacks deliver on taste". 50% said some healthy snacks deliver on taste, while 28% think that healthy snacks never or rarely are tasty.
Let The Grocer's findings be a reminder that regardless of how innovative, healthy or 'cool' your product is – whether it is a snack or something else – it is almost guaranteed to underperform if it doesn't deliver on taste.
Recent blogs