The rise and rise of 'real food'
---
The trend towards more consumers wanting 'real food' while avoiding ultra-processed foods may not yet be a mass market trend, but it is gaining traction – more so in some countries than others.
In Spain, where an astonishing 40% of people claim to be avoiding ultra-processed foods, nutrition guru and influencer Carlos Rios has developed his own classification of real foods and ultra-processed foods (UPFs). Based on this, he has created the Realfooding movement, which encourages consumers to "become a #realfooder" by avoiding things that count as ultra-processed according to the standards set out by Rios. In short, that would be anything that contains refined flour, added sugar or sweeteners, hydrogenated fats and refined oils. Rios' definition is, for most people, easier to understand than academic definitions such as NOVA.
Realfooding has an impressive 1.7 million followers on Instagram while Rios' own account has 1.5 million. Meanwhile, the hashtag #realfooding has been used 780,000 times and #realfooder 444,000 times. That is more than trendy concepts such as #oatmilk, #nootropics, #adaptogens and #prebiotics.
Since its inception in 2018, Realfooding has evolved from inspirational social media platform to a company that has cookbooks, a delivery service of "real" fast food and which endorses brands that meet its criteria. Its MyRealFood app helps consumers choose real foods in the supermarket, share recipes and track their eating – it calculates calories and macronutrients, and also what percentage of your diet that day was 'real food'.
In 2022, Danone became the first major food company to engage with Realfooding. A line of Danone-branded drinking yoghurts now carries the Realfooding endorsement, thanks to the fact that it is made with 4 ingredients and minimal processing.
But as Realfooding's popularity grows, critical voices are becoming louder. An extensive article published earlier this year in El Pais, Spain's biggest newspaper, carried the dramatic headline "Carlos Ríos: the rise and fall of the nutritionist who invented 'realfooding'". The article criticised Rios for having become too business-focused and for losing track of the original goal of helping people eat healthier. Realfooding was accused of promoting products that are in fact not healthy at all and for inflating the prices of the products it promotes.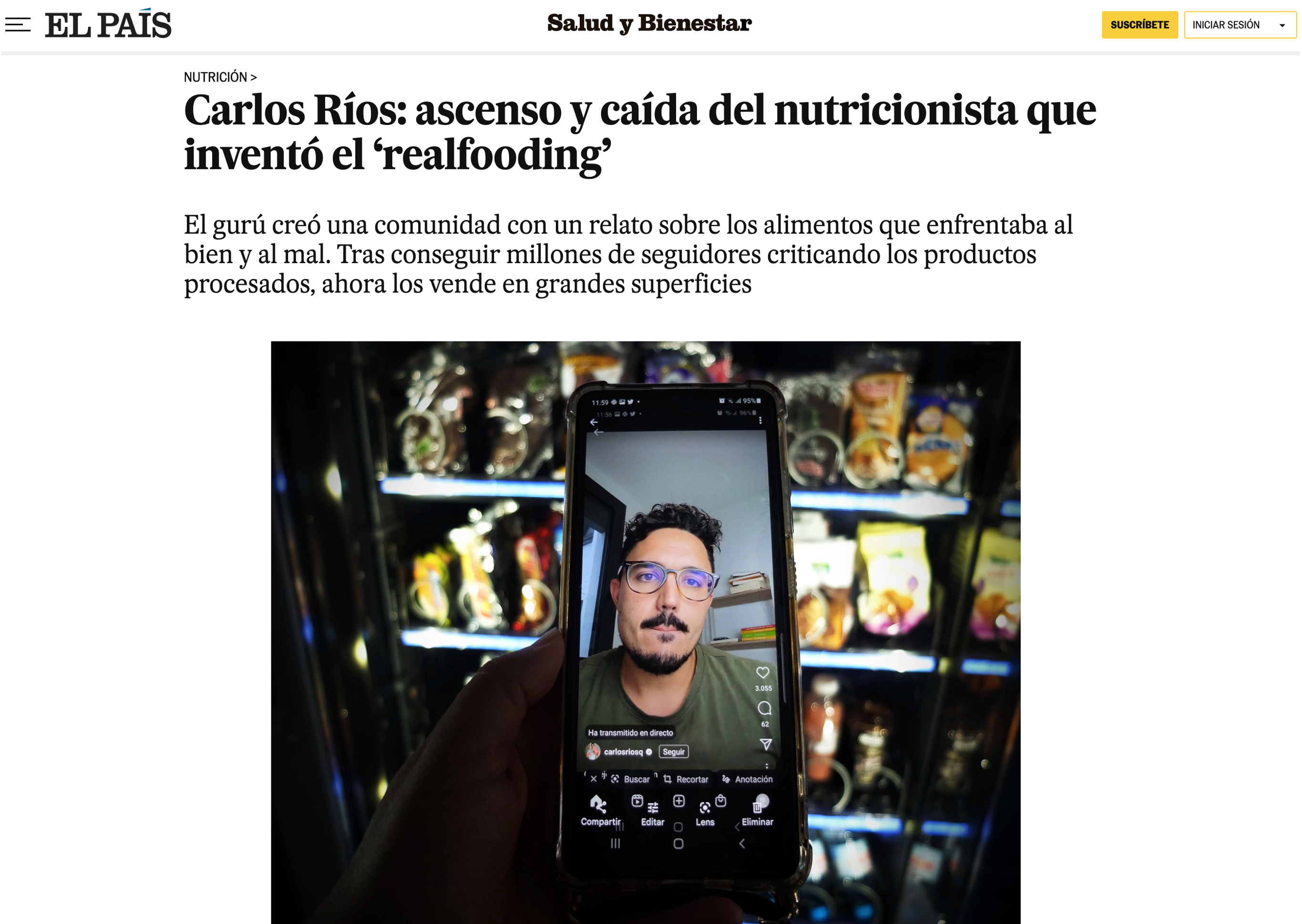 Despite the criticism, there is an undeniable demand for 'real food' among Spanish consumers. And if there is one thing we know about today's consumers, it is that they are often happy to ignore undesirable aspects of a product if the benefit it provides is perceived as important or trendy enough. Thanks to this, products like protein bars full of artificial sweeteners or bakery products full of sugar – but also whole grains or vegetables – continue to succeed. And thanks to this, the future of Realfooding may be brighter than El Pais would have us believe.
Recent blogs