What's old is new again as Kellogg's trials paper liner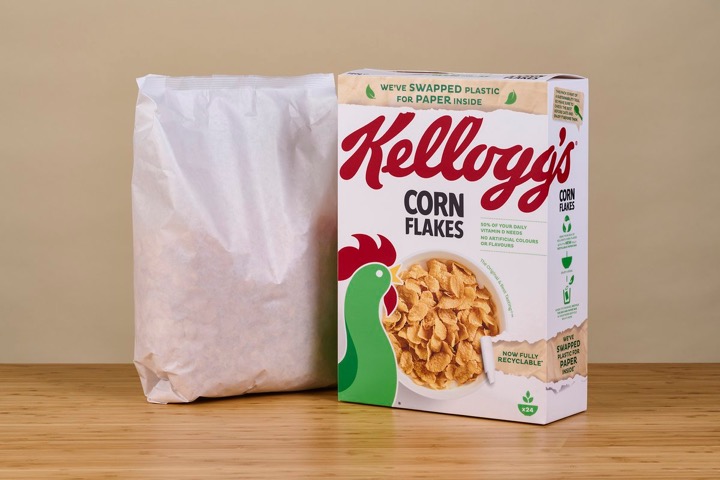 ---
Anyone of a certain age will remember cereal coming in paper inner liners – often waxed paper, which made them ideal for a second life as sandwich wrappers. Now, after years of using plastic liners, Kellogg's UK is trialling a move back to recyclable paper liners in Corn Flakes cereal boxes.
The pilot will take part in partnership with UK retailer Tesco in a small number of stores from January 2022. The new packaging will be fully paper-based and made with a paper liner that can be widely recycled – making it a more sustainable alternative to the current plastic liner which is not widely accepted in kerbside recycling.
The company says the results of this trial will shape its plans for fully recyclable cereal packaging – whether that means using recyclable plastic liners or the roll out of fully paper-based cereal packaging.
Chris Silcock, Kellogg UK and Ireland managing director, said: "We know people want to do more to help the planet and that's why we are working hard towards meeting our commitment of all Kellogg's packaging being reusable, recyclable or compostable by the end of 2025. This important trial of fully paper cereal packaging ensures we have explored all our options."
This is part of Kellogg's Wellbeing Manifesto launched in May 2021 which outlines a decade-long commitment from the company to improve its food and packaging so that it's better for people, the planet and the community.
With social media users daily tweeting demands for plastic-free packaging at food companies or calling out half-hearted attempts at revamping products as sustainable, it seems like adopting a sustainability message should be a no-brainer. Whether consumers will reward sustainability efforts with higher sales and higher prices is less certain – but there's no doubt that sustainability has become part of the overall package that makes it easier for people to pick a pack off the shelf.
Find out more about how companies are connecting to the Sustainability Mega Trend in our 10 Key Trends 2022 report.
Recent blogs